Another Friday is here and I am so thankful for the upcoming three day weekend we will have. We have lots going on this weekend, but still enough time to rest and relax. My kind of weekend. Today I am linking up with
Karli
and
Liz
.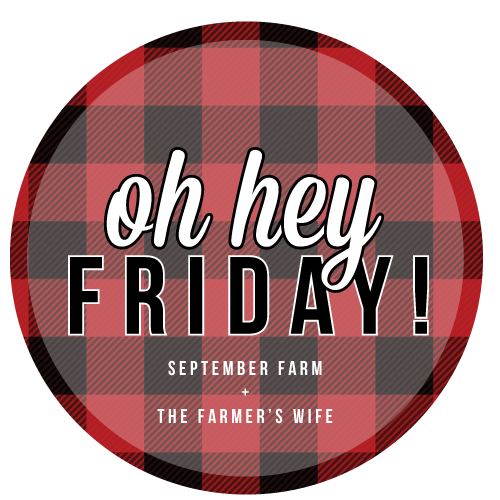 One.
Rory and I have another date night this weekend. Two dates in one month is impressive. And it is all thanks to my in-laws for watching the girls. We are going to a steak dinner at one of our favorite steakhouses. The occasion...Rory got promoted at work. We made a deal that if one or both of us got promoted, we (whomever was promoted) would take the other person out to a steak dinner. Well Rory is now the newest Special Agent. And my belly gets to benefit from it. But I may have to pay up as well because I am up for a Senior Agent promotion in a few weeks. Fingers crossed.
Two.
Sausage and Tortellini Soup. I was reading
Carolina Charm's blog
this week and came across this
recipe
. It has chunks of sausage. Check. Cheese Tortellini. Check. And it is a soup. Double check. I have been craving soups and eating them as much as I can this winter (heck any winter or any day) and this one is right up my alley. I will be making this Sunday night. I.CAN'T.WAIT.
Three.
I know I am not supposed to be spending (but I will get that cute macaron necklace very soon), but I am dying for this hat. It is so cute and will keep my head warm while looking cute on the way to work. Win win, but I need to wait on this one. But you don't, and it is on sale right now.for $12.
Four.
Toddler Cooling Dish
. The girls are eating more and more foods and this week we dabbled in Mac n Cheese. Rory went to a Wolf Pack basketball game and I picked up my favorite mac n cheese at the store last weekend. I wanted the girls to try it and this little dish allows me to serve it to them right away. It cools the food down and it keeps ice cream cold. Game changer.
Five.
Another game changer is this no water soap,
Mustela Physiobebe
. I was recommended this product by fellow bloggers and it is great for in-between baths, using after a big poopy change and cleaning your children's faces. Plus it is so gentle on their skin. I love this stuff and so will your children.
source
Six.
(Because I have too much to say and who doesn't want free money?)
a Rafflecopter giveaway
I hope you all have a good weekend!
*This post contains affiliate links. I only recommend products that I use and love myself.*