Today is the 10 on Tuesday link up and I didn't have time to write a post yesterday, so this one is coming at you very late and pretty random.
10 on Tuesday - Random Stuff Going on In My Head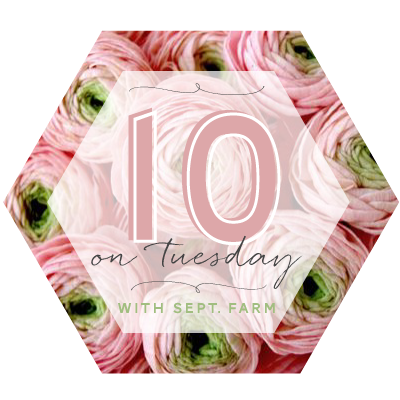 One.
Having a sick baby is the worst. Having two sick babies is not fair. The reason I didn't get this post going until today...Avery got pink eye and Sutton got it mildly, but she also got a nasty cough. They were both sent home from daycare yesterday and we got to hang out with crabby babies. They wanted to be held, but then they didn't. They didn't want to play, but they wouldn't sleep. The only thing that made them happy was a long walk in the sunshine, a bath and bedtime. Poor baby girls. They have been on antibiotics for 24 hours as of 10:30 am so they will be arriving to daycare late (unless their sickness is worse). We are exhausted.
Two.
I think I barely slept 3 hours last night and I feel like a zombie today. Every time Sutton coughed, it woke me up. Hoping for a nap or a great nights rest tonight.
Three.
I missed the gym yesterday and even though we went on a 3 1/2 mile walk, it doesn't feel the same. I need my workouts to release the stress and get rid of those extra million calories I consumed this weekend.
Four.
We are a month and a half out from our annual vacation to Graeagle. It is only an hour and 15 minutes away, but it feels like so much more. We stay in cabins, have breakfast and dinner prepared for us daily, go on hikes, sleep in, relax and golf. So looking forward to that. I would rather be there than here at work.
Five.
I should be working, but writing blog posts is so much more fun. Plus it is pretty dead in the office today.
Six.
I caved and bought the boots I showed you all on Friday. $30 was a steal and I needed them in my life. Please be comfy and as cute as the picture shows.
Seven.
My sister-in-law comes into town this weekend along with some other family and I am so excited to see them. Hoping my girls feel better by then otherwise we have to cancel. Can't get my pregnant sister-in-law sick.
Eight.
Mother's Day is this weekend and we (meaning my mom, sister and I) finally booked a Picasso and Wine session for May 20th. It only took my mom a little over a year to use her Mother's Day gift from last year. No biggie. Ha.
Nine.
Sushi. I can't get sushi out of my head and I feel like a date night should happen ASAP so I can indulge in it.
Ten.
200 more miles until I take my car into the shop for the oil consumption test (conclusion). My gas mileage hasn't been that great, so I am fearing the worst (they may not even be connected) and thinking my car will need a whole new engine. Ugh, so many problems.
See, I told you, very random list here. I just needed to get it all out and what better way than in a post to you all.